More Than A Game
"I just thought I'd give it a go really. I thought there was nothing to lose, so yeah I went down to the first session and now it's the highlight of my week. I hate to miss a session. I love it"

— Heather, Women's Brunsmeer Awareness FC player
---
Both Brunsmeer Awareness FC (ladies and welcome to all teams) are built on the ethos of being mental health-friendly, and a space for all abilities. It's fun, the teams are caring and the exercise boosts the endorphins.
More Than A Game, is a partnership between CALM and Carling, who teamed up to shoot a short docu-series on grassroot football teams that bring communities together. It's to remind us that football is more than a game, and to shine a light on the positive aspects of playing team sport.
Ladies Brunsmeer Awareness FC team were approached by CALM and Carling to be part of this short docu-series where Ashley Cole interviewed Josie, Heather and Lisa. Being the good sport that he is, he also played with the team!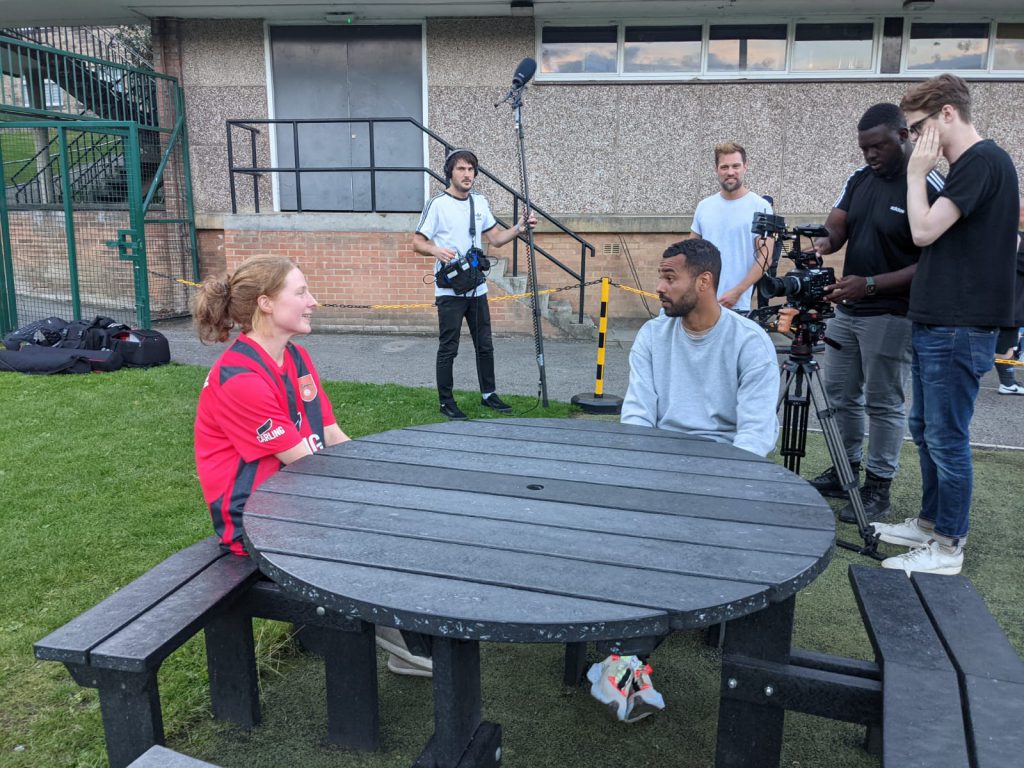 Brunsmeer Awareness FC player, Heather, joined right at the very beginning of the ladies team being set up. Heather shares her story in this short film of her experience of postnatal depression, and how going along to Brunsmeer Awareness helped her mental health.
On the short film you can also catch Josie and Lisa talking more about the team, community and the mental health training that was provided by CALM and Carling.
The ladies loved being part of this. Thank you to CALM and Carling for choosing us to be part of this and for providing us with brand new shiny football kits. The football kits can be seen in the video below showcasing the Caring United slogan.
You can view the whole campaign here. CALM, Carling and Ashley Cole visited four other football teams across the UK, including an LGBT+ team, a team supporting dads, a team helping men to tackle obesity and support mental health, and a team for older men.
For more information on how to join in with Brunsmeer Awareness FC, including the open to all group, see here
"I'm super proud to be part of the team. I have made so many great friends! I love going every week to laugh and enjoy. It's what I look forward to every week!"
– Jess, Brunsmeer Awareness FC player