Celebrating a decade of community arts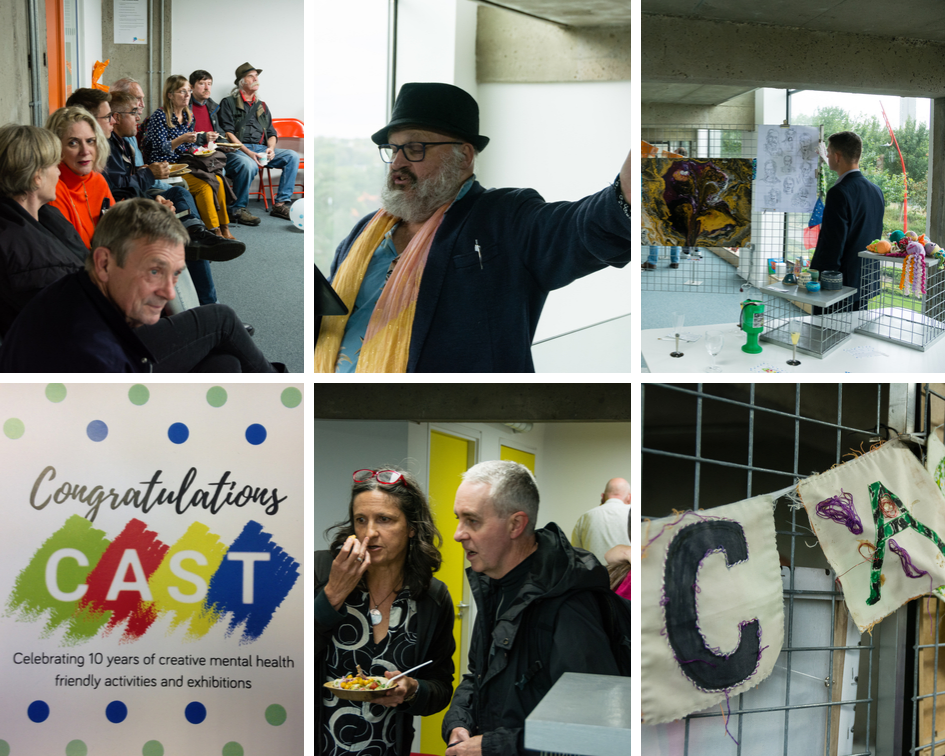 On 10 October this year we celebrated 10 years of CAST with a celebration-exhibition in the iconic Park Hill building. For a decade, CAST have been supporting people living with mental health difficulties and distress to harness their talents and interests. And for these 10 years they've been putting on exhibitions, showcasing the beautiful work created to the wider city. All this has been done, primarily, through the efforts of dedicated, passionate, kind and skillful volunteers. A special thank you to CAST leads Chrissie, Emma and Neil.
This year's exhibition was one night only: a party to celebrate all the hard work over the years. We were supported by the fantastic Hive IT, who gave us their office space for free, as well as Juice, who helped fund the event through sponsorship.
We were also supported by our community: CAST members and wider Sheffielders who helped make the event really special. Our community is everything to us, so we wanted to do a special shoutout to all the artists who donated their work. The work sold and auctioned was a brilliant mixture of beautiful, fun, interesting and powerful, and raised us over £400, so we are massively grateful.
The artists:
Andrew Glossop
Carol Kallend
Caroline Turner
Chris Bellamy
Chrissie Hinde
Dana Archer
David Edwards
Emma Denis
Gemma Lock
Hannah Flynn
Jon Gooch
Julie Edwards
Karen Ledger
Knit and Knatter Group
Liam Mcdonald
Myrtle Pritchard
Neil Simpson
Nev Wheeler
Pedrum Nayeri
Tawatchai Wangtapan
If you're ever looking for an example of a strong, supportive, and long-lasting community, look to CAST.