"Are you sitting comfortably …"
"The courage it takes to share your story might be the very thing someone else needs to open their heart to hope"
Unknown
As a child I possessed a vivid imagination and loved telling my stories to anyone who would listen. Magical tales recounting larger than life characters and mysterious worlds. Although the stories weren't 'true', they weren't lies either, merely the result of many contributing influences – my life, my family, my passion for reading and writing.
My lifelong fascination with stories has never left me. The last half hour of every day as a primary school teacher was a joy – a class of children sitting at my feet listening intently to a new adventure or chapter. I learnt how to enhance stories using different tones of voice and giving characters unique and often outrageous accents and speech styles.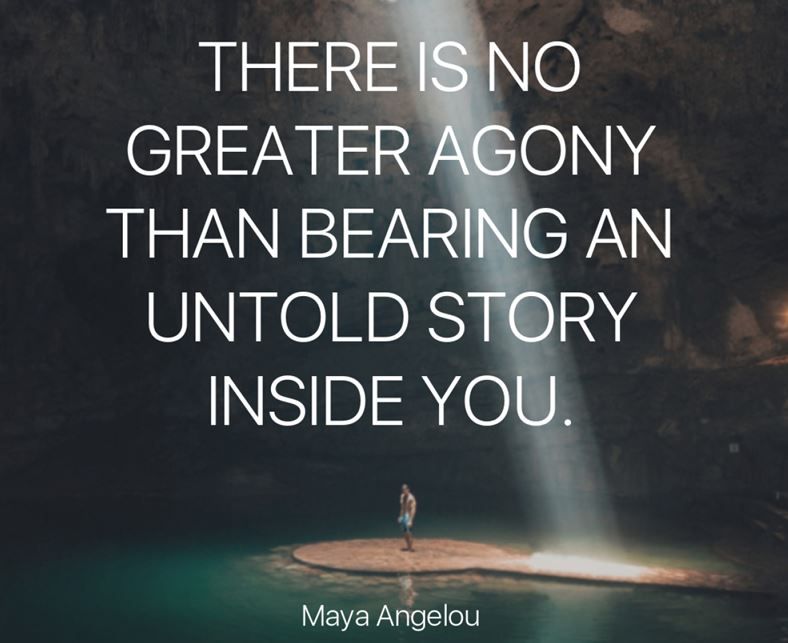 Telling stories in the outside world was harder though. No longer relying on imagination or published texts, personal life stories received less attention. Based on my lived experiences of mental health problems, chronic illness, disability, infertility, divorce and bereavement, these 'stories' held less appeal. But without telling them, they remained well and truly embedded in my psyche threatening to destroy me.
Some people feel uncomfortable talking about themselves, believing that level of sharing to be self-centered and indicative of them seeking sympathy and compassion. But whilst it can be reassuring to receive a certain amount of the latter, that is not why I have shared stories about my life. Rather, I hope by talking about events and circumstances that have challenged me, I can offer hope and resilience to the listeners.
There is a challenge in telling your story in such a way as not to traumatize people. I remember giving a talk on Personal Losses at a conference called 'When Loss Comes Home'. People came up to me afterwards asking me how I had survived everything and I realised, maybe for the first time, the impact such a catalogue of losses could deliver. It also puzzled me – some of the audience seemed more affected than me, yet I was the one who had lived through it. Why was that?
Then it struck me. To bombard people with my story was traumatic because they heard it all in less than half an hour – but my experiences occurred over a much longer period of time, now over 60 years. I survived, for want of a better word, because the losses were separate incidents, interspersed with periods of recovery and healing. My audience didn't have that luxury, instead being regaled with one loss after another with no time to reflect and absorb events and emotions before being catapulted into yet another trauma.
So, I learnt to break my stories down into manageable portions. If I am invited to talk at a conference or to a group of students, I ensure I am focusing on one or two incidents, no more. And I am careful to introduce my stories with a gentle warning about the content, knowing everyone has their own story and can potentially be triggered or traumatized.
Perhaps the greatest opportunity to share my story arrived several years ago. I was invited to share my experience of complicated grief in an edited collection of personal stories. The US editor and publishers were social scientists, so the stories had to be written in an academic context. My young husband's untimely death many years earlier had resulted in a long and difficult period of bizarre grief that I was now able to share with the world, and once the book was published I finally felt able to move forward.1
Personal storytelling is indeed an art, requiring careful thought, preparation, and presentation. It is also a gift that can be shared and beneficial to the teller and the listener. I want people who hear or read my story to be moved and inspired, to take away with them the knowledge that although we are all susceptible to life's challenges we are also strong individuals who, with the right support and people beside us, can find ways to cope and survive whatever life throws at us.
Miller, Eric D. (2013) Stories of Complicated Grief: A Critical Anthology. NASW Press:
Chapter 4: 'Tears and Tattoos: Complex Grief Revisited' Trish Staples