How we're keeping you Covid safe at our office
Last month, we announced an end to the booking system to attend any of our groups. This means that you can just turn up at the Sheffield Flourish office when a group is running.
In case you don't know, we run 4 groups from our office every week: CAST Art, CAST Writing, Open Door Music Production and Open Door Jamming. We also run Oasis Gardening and Brunsmeer Awareness FC Football, but these take place elsewhere.
We wanted to share with you the steps we're taking to keep the space Covid safe, so you can attend without worry. If you have any questions or concerns not addressed here, please email us at [email protected]
Covid rules still apply
That means we'll ask you if you've had any symptoms, or been in contact with anyone who's had symptoms, when you first arrive. If you have, you won't be able to enter the building and must immediately self-isolate.
Social distancing
We're asking everyone who comes to our office to practice social distancing – that means remaining 2ms from anyone outside of your household. We've set up the tables and chairs in the Activity Room to make this possible, so please don't rearrange them.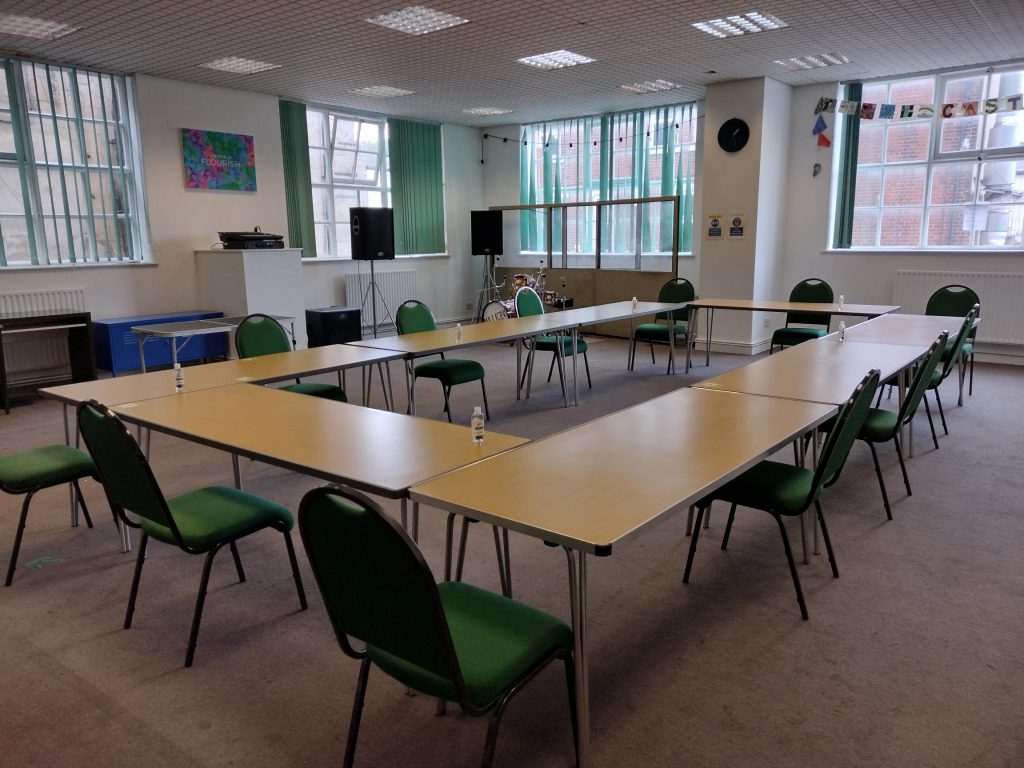 Masks
We're asking everyone to wear a mask when they're walking around the office, unless they have a medical reason for being exempt. You can take it off when you're sat down.
Open windows
In every room, there's at least one window open at all times to keep the space ventilated. If you think you might get cold, we recommend bringing a coat or an extra jumper.
Hand sanitiser
Throughout the building there's hand sanitiser for you to use, and we'll ask you to use it when you come in the front door. If you'd rather use your own, that's fine too!
Track & Trace
If you have the NHS Covid-19 app on your phone, then we'll ask you to check in using the QR code by the front door. If you don't then not to worry, we just need to take your name and contact details when you come through the door.
Clean surfaces
Our staff are ensuring all surfaces are cleaned before and after every activity group, including in the kitchen and bathroom.
One way system
You'll see there's arrows on the floor around the office – these are the one way system. We ask that you stick to that to reduce the chances of you bumping into someone.
Lock on the bathroom door
Only one person is allowed in each of the bathrooms at a time. There's a lock on the door to the bathroom for you to use instead of locking the cubicle.