Coronovirus: Things to do in your Sheffield homes
We're really missing the weekly groups we usually run here at Sheffield Flourish. Although we're still available over the phone, we've been trying to think of what we can do to fill the gaps. So, we decided to put together this blog of activities.
First off, a really helpful picture we wanted to share, which talks about what you can and can't control: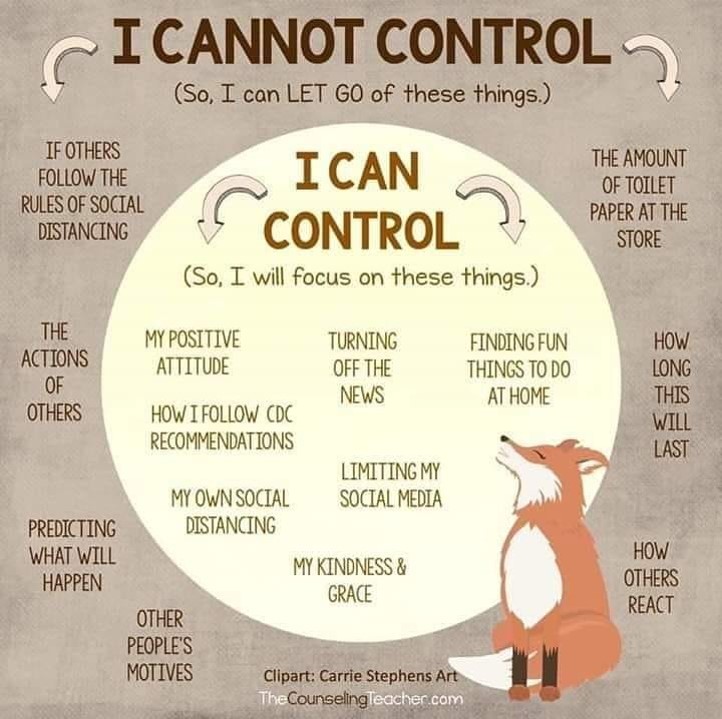 One of the things our staff team have found helpful, too, is using our new accounts on the My Toolkit platform (if you don't know it already, it's a website we recently launched). It's a good space to think about what works for you, and although you can't plan to visit most activities as they're sadly shut, it's easy for you to set your own goals. You could add goals from the ideas below? There's also an amazing list of different things to do at home through a website called Chatterpack, which includes the Quarantine Chat app.
Now we'd like to share some activity ideas. If you can think of any we should add in here, please get in touch and let us know!
Arts and crafts
The internet is absolutely full of arts and crafts activities, but here's just a few suggestions:
Music
Football and exercise
Reading and writing
Connecting with nature and the outside world (safely!)
Alongside these, there's also learning a language, doing a spring clean, or even just enjoying sitting in your PJs watching TV!
If you have more ideas to share, please let us know. Take care everyone, and we're here on the phone line during normal working hours if you need us.