Come to My World - a collective poem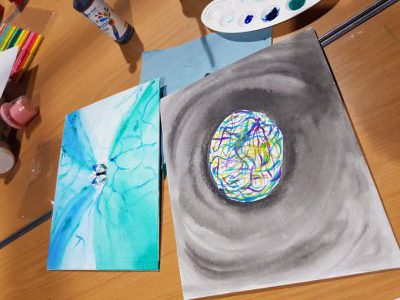 This beautiful group poem was written by seven participants who attended the Nature and Wellbeing course; a collaborative project between Sheffield Flourish and IWUN in October 2018. During six weeks, we used a range of storytelling techniques including creative writing, poetry, and painting to express and transform our thoughts and personal experiences of nature and being outdoors. This poem reflects some of the themes and personal stories (connection and disconnection, place, hope, curiosity, unblocking feelings, etc.) that emerged during the course. By welcoming readers into different 'worlds' and landscapes, this poem also shows how a poetic and imaginative engagement with nature can help and be meaningful when the weather is 'cold and grey outside'.
Come to My World
A dissociative cocoon, half hidden, awaiting the safety of the circle.
My map is a labyrinth, take the risk, follow the swirl and you'll be safe.
Close up you see the glittering dance of the moon
as it lies in the pulses of my body.
I speak colours and translate them into butterflies.
Come to my world,
a heart ablaze, a landscape taken over by the sunrise,
ivies reach out to many skies
and I'm amazed how they reach out for love,
for hope, the way they glide.
Come and dwell in my world
It's cold and grey outside.
Many thanks to Joan, Stacey, Lucia, Tina, Juliet, Ella, and Jayne.
Shirin Teifouri