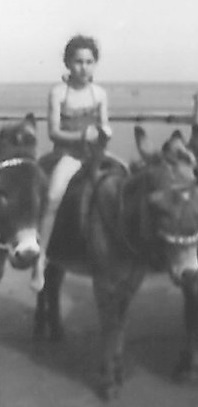 Long before package holidays abroad became popular and affordable, my parents took us – one boy, three girls – to Skegness and Mablethorpe. I have sketchy memories and photos of dunes, wind breaks, deckchairs and donkeys. But the biggest attraction was the sea itself. Living in a large city like Sheffield, I had access to numerous parks, hills, woods and streams … but nothing compared with the thrill I got every time I was at the seaside.
An avid reader, the seaside was like an exciting Enid Blyton world where I felt free, uninhibited, brave, confident, inquisitive. My mother worried about taking me as I tended to disappear, only to be found several hundred yards away kneeling by the sea's edge, playing happily and chattering away.
Fast forward over half a century to adulthood. I have realised a lifelong dream and now live by the sea. Abroad, where the sea is always warm.
You can still find me regularly at the water's edge, letting the waves lap over me, or in the water having a conversation. With the sea. Some people think I'm crazy, saying, "The sea can't hear you, or answer you". I think they're the crazy ones. They clearly haven't discovered the joys and benefits of talking to the sea.
The sea listens. I can shout, cry, laugh, share secrets, swear, ask questions … the sea doesn't react negatively, judge or mock me. Instead, it supports me, offers quiet comfort and security. And if I listen really carefully, I can feel the sea's response through the movement of the water. A tiny happy splash, a big unexpected swell … each seems to offer its own opinion of my words and thoughts.
When the sea is too rough (or in the UK's case, too cold!) to spend much time in the water, I still feel the benefits of simply just being in its proximity. The warm tingle of sun on my skin, a gentle breeze blowing through my hair, powdery sand between my toes. Each sensory experience provides me with a feeling of wellbeing that is difficult to quantify.
So why does it feel so good? I think it's because being near the sea brings me back to 'me', injecting life into me in a way nothing else can. It calms me more than Diazepam, lifts me more than Fluoxetine!
A recent article in The Independent newspaper highlighted a University of Exeter study reporting those living around half a mile from the coast are less likely to experience mental health problems such as anxiety and depression (1). In spite of it being an island, most people in England aren't able to live close to the sea, but day trips, short breaks and holidays can still provide a therapeutic ozone boost.
As a Yorkshire woman, two of my favourite resorts are Scarborough and Whitby, even in the winter months. Free your mind and concentrate on the sensations you notice while walking on the beach – observe the waves, listen to the seagulls, feel the bracing sea air on your skin, taste the saltiness.
The sea has definitely had a huge positive benefit on my mental health, because it reflects an oft needed reminder of who I am: "I feel a resurgence of my 6-year-old self… that little warrior, goddess of a girl reminding me of who I was when I was little, before the world got its hands on me" (2).
(1) ScienceDaily, 30 September 2019 www.sciencedaily.com/releases/2019/09/190930214514.htm
(2) Jennifer Elisabeth, Born Ready: Unleash Your Inner Dream Girl