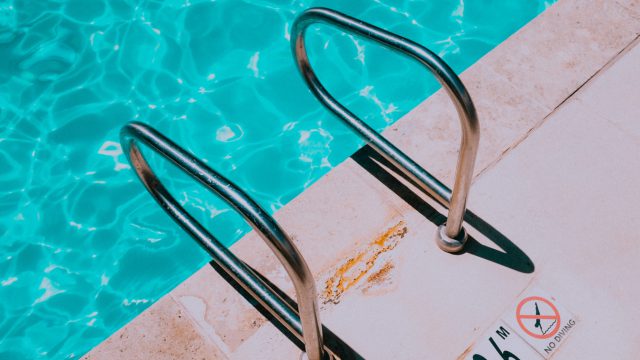 Becky Mairi Farrell: Swimming - From Fear to Freedom
Becky tells us how swimming not only helps her relax and gives her some respite from her anxieties, but also that she is getting a physical workout which helps lift her mood too.
After the horrors of school swimming lessons, I came to enjoy swimming in my late teens. Then life got busy and my swimming dwindled away.
In recent years I've wanted to swim again, but fear has held me back. I never had a positive body image and I have a lot of scars from self injury in the past. So, much as I wanted to swim, I didn't want to bear my flesh to the general public.
When I was in hospital a few years ago I admitted my trepidation-filled swimming ambition to one of the Occupational Therapists, and she suggested we go swimming together. It was a rare opportunity to get off the ward, so, tentatively, I agreed.
She took me to the pool at Zest, Upperthorpe, and I was amazed and excited to find women there swimming in all manner of attire from a basic swimming costume to head to toe clothing. It was all OK, no one seemed to care what anyone else wore. I still felt incredibly self-conscious, but it gave me an idea.
It took quite some time for me to put my idea into practice, but about a year ago I kitted myself out with swimming trousers and top and set off back to Zest. It felt amazing to be able to swim in what I wanted to wear, and I went a few times over the following months.
In April I decided to swim more regularly. I was waking up early so I started to go to the 7am-9am session a couple of times a week. At first I could only do a few lengths before I would need to stop and rest, but I kept going and gradually got fitter.
Before long I was aware that the extra clothing I was wearing was slowing me down, so I dispensed with the swimming trousers and started swimming in a swimming costume and T shirt. After a few more weeks I decided I could live without the T shirt too.
It wasn't that I felt hugely better in my body, or that my scars had miraculously disappeared. But when I'm swimming, my mind empties itself of all its busy thoughts and all I think about is swimming. So my head just forgets to produce self-criticism and anxiety. As well as being a physical workout, it gives me complete mental rest for an hour or so while I swim, let the water hold me, and drift away.
I still don't swim as much as I want to. Mostly I get there a couple of times a week, but I have to do a lot of convincing myself to set off. I know that once I'm in the pool I won't want to get out. I know that once I've been I'll feel better for the rest of the day. Yet still my mind often says no. The problem is that the waters that soothe away anxiety and self doubt are not actually in my house, and it's not until I'm in the pool that the worries disappear. But I'm learning to remember more often that the reluctance lasts only until I wade into the water, and that is helping me to keep going back.
Contact information for the Zest Centre: Address 18 Upperthorpe, Sheffield S6 3NA; Phone: 0114 270 2040