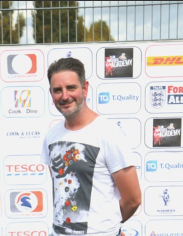 Sam Dawson
Brunsmeer Awareness Lead
My name is Sam Dawson and I have been involved in the Brunsmeer Awareness project since 2013.
I was keen to get involved in a football project, as I believe it can play a vital role in mental health recovery providing a social network, peer support, developing identity and improving physical health.
Flourish were a big help in helping us to secure funding which was vital for the progression of the group. Working with Flourish on the football session is great in that it allows us to promote the project to a wide audience. This means we can attract new players and volunteers to the group.
My role is to oversee the general running of the club; this involves attending the weekly sessions at Woodbourn Rd, organising steering group meetings and dealing with the administration side of the club.
Being a part of Brunsmeer Awareness FC has had a great impact on my life. It is a joy to be involved in such a positive project, to be able to watch it grow and to see the players develop in confidence and forge lasting friendships.