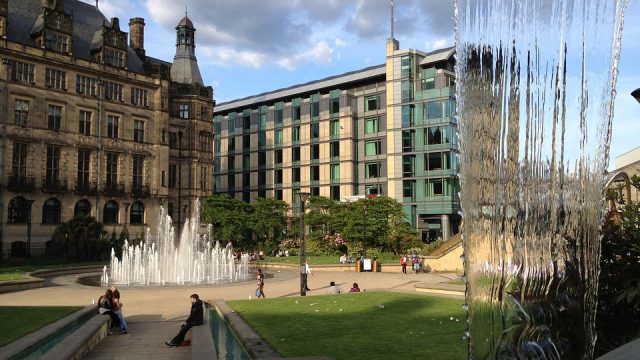 Jessica Gibson: From Southport to Sheffield – my experience of mental health services
Jessica Gibson writes an enlightening account of just how much mental health services can vary in different parts of the country, and describes some of the approaches to mental health support in Sheffield. Her story highlights the profound impact that the right kind of help can have.
I moved to Sheffield by complete chance (if you believe in random chance encounters) on a recommendation from a friend who I'd met whilst in Australia. It seemed a positive step in my recovery journey and was the better choice of a bad few at that moment in my life. I only knew one person in the whole of Yorkshire at the time of moving here, my lovely housemate Vicky. Though she had told me a lot about Sheffield, I had no idea just how hilly and green the city actually was! I instantly fell in love with the stone-wall houses that were hiding in the hills and greenery all around.
I was happy to be in a new place with a clean slate and a fresh start but still found it difficult, confusing and very lonely most of the time. Moving to a new city where you don't know anybody is hard. At the time of my moving in, my housemate was bombarded by brides-to-be – it was June and it seemed all hen do's and weddings on earth happened in the summer of 2016. My first summer in Sheffield wasn't great but I had some positives to hold on to – nobody knew me here so I could be whom I wanted and I genuinely loved the feel of the place. Then I found Theatre Deli where I was able to meet creatives and start getting involved with projects which helped my wellbeing no end.
I had left Southport with no sense of hope at all. After an unhelpful and unsupportive experience at The Hesketh Centre over a 6-month period I felt tangled and unheard. I was perplexed by the seemingly contradictory viewpoints of the psychiatrists, mental health nurses and psychologists I saw in my appointments. At my most challenging point I was really struggling with high-risk impulsive behaviours that felt completely out of my control. I was so terrified of my impulses and intense rage that I had decided to remove myself from my family as I feared I would hurt them and ended up booking myself into a Pontins seaside resort down the road, alone in the bleakest of Octobers. It was not the fun Pontins experience you might have when you go on a family holiday – no, quite the opposite. At the Hesketh Centre, they seemed to have a consistently hard time understanding and communicating with the person directly experiencing these scary and distressing mental health challenges – me! I'm pretty sure these communication barriers had not been through lack of insight on my part but more lack of differentiation or listening on theirs. The general attitude I had faced was "we've seen and heard this all before, we are very busy here and we know better than you, so please go away". Though nobody had actually ever said this to me I had felt it every-time I attended a session. There was never any documentation whatsoever of me attending anything there … like, ever. The psychologist forgot my name and managed to get my story mixed up with someone else's during one to one sessions and I was recommended to go back onto a particular medication that had made me very, very ill indeed. To cut a long story short it was a damaging experience, but I have managed to reflect and learn from it. Unfortunately, I know all too well that others who need help haven't made it to a point where they can reflect in the way I have been able to, and for them I feel a deep, harrowing sorrow.
When I got to Sheffield I didn't go to the doctors straight away as I thought there was absolutely no point after my experience with The Hesketh Centre. It wasn't until I relapsed quite badly in the summer after moving in and fell into a deep, dark depression that I called upon my housemate and mum to take me to the doctors. It felt overwhelmingly uncomfortable to ask for their time and help but I knew what might happen if I didn't – and there's no returning from that.
Just for the record, Broomhill surgery has been fantastic to me. As far as doctors' surgeries go, it's the best I have ever had. It's not always been perfect but I'd say 9 times out of 10 I have had a compassionate, open-minded doctor who is willing to listen and communicate with me on my options, and be truthful when they don't know the answer immediately. The two who have seen me most have been amazing at making me feel at ease talking about my mental health over the past couple of years and have managed to listen, be kind and, most importantly, direct me toward the correct services. One such service is the psycho-education group courses at Sheffield Health and Social Care.
The psycho-education groups are fantastic and I was lucky enough to attend Anxiety Management, Recovery Education Programme and two separate Borderline Personality Disorder groups. This totaled to something like 29 weeks of education on different areas of mental health. At first, I was completely taken aback that this was even being offered to me and almost had to pinch myself when attending the assessments. The courses I participated in offered skills on how to cope, distract and manage the things that come with facing such difficulties as anxiety, depression and borderline personality disorder (which I couldn't welcome more given the summer I had just battled through!).
Much to my amazement, I instantly took to the group sessions as they were non-threatening, really down to earth and, most of all, very educational. When you join the courses, the fact that the sessions are co-facilitated by 'experts by experience' really helps set the tone for the coming weeks. Seeing individuals leading the sessions with confidence and knowledge is really inspiring and empowering for anyone, let alone for those feeling completely hopeless. For me, I also found having mental health talked about in this context – as 'education of self' – so refreshing and uplifting because it felt almost like altering the focus on a camera lens so you can see clearer. It seemed to shift my perspective in relation to this thing I had been experiencing; each session indirectly reminded me that this is something happening to you rather than it being embedded as an intrinsic part of who you are. Over the course of the weeks, we were encouraged to open up discussions and explorations around themes such as labels – do we find them helpful or not? recovery – what does it mean to us as individuals living with mental health challenges? and identity – what parts of our personality are there that we like outside of a mental health context?
All of this, alongside meeting people who have experienced similar struggles to me, has given me so much more than I could have imagined when I checked myself into Pontins that October in 2015. I definitely feel that the groups have offered me a new lifeline by way of coping strategies and skills for when I have episodes – which I still do but they are less often now. The environment, the staff and the delivery of the services are exceptional. The psycho-education groups in combination with the grassroots feel of creative hub Theatre Deli and the social, community spirit of this green city has truly turned my life around.
And I must finish by saying thank you to each and every person who has been a part of my journey so far. I honestly might not have done it without you. My family, my housemate, my partner and my friends… thank you always. A special thanks to Broomhill surgery and Sheffield Health and Social Care for providing such services to individuals like me.