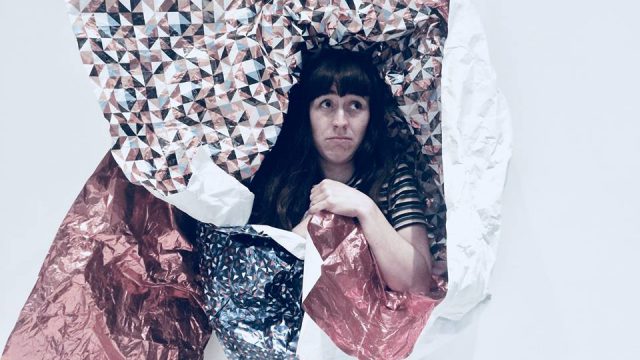 Jess Gibson: Work In Progress - A Reflection
Jess recounts the enthralling journey of battling her demons to produce her own solo theatre show about mental health. Settle in for a great read.
Starting Again
The onset of my big mental health breakdown came during my second year of university. At the time I didn't know what was happening but upon reflection I can now identify the triggers, see the deterioration in my mental health, and understand how it led me to experience psychosis for the first and only time in my life.
Since my graduation I have spent around 4 years learning to live with my mental health difficulties. I've been in and out of work with relapses, experienced harrowing, debilitating, and overwhelming thoughts and feelings, and attended therapies and education groups where I continue to learn how to manage each day. When I was very unwell I couldn't appreciate that I was collecting important first-hand experience which would eventually lead to something great – writing and developing my own solo show about my mental health challenges.
Rediscovering My Voice
Applying for the Third Angel Mentoring Scheme seemed like an extremely optimistic thing to be doing given my circumstances at the time, but I was willing to try ANYTHING to change this situation I was in. There would surely be loads of quality artists with a solid background in theatre applying. And then there was me. Just me and my idea. I felt like I didn't stand a chance but my mum made a good point that at least it would be something to focus on and fill my time with. Plus, it would be good practice if I ever did get out of this situation. Unlikely, but it couldn't hurt as a distraction could it?
I filled out the application and got through to the interview stage. I had a follow-up evaluation over the phone. Then I got the call to say I'd got it. I'd got it. Me?! A week's mentoring with Rachael Walton, Artistic Director of Third Angel and a studio to work in for the week at the Lyceum Theatre. I couldn't believe it and was unsure how to feel. I felt numb, happy, and weird all at once.
Rachael was fantastic – gentle but encouraging, enthusiastic and calm all at once. I felt completely at ease working with her as she offered questions instead of criticisms and left suggestions and small tasks for me to try out on my own. It was a very honest and open process and there was never any pressure on me; it was all on my own terms. This helped forge a great trust between mentor and mentee, but also gave me the freedom to try things that otherwise may have felt quite silly. These are the things that have made the show what it is today. Having a mentor and dedicated space to try out new ideas were the things that I needed most – I just hadn't realised!
Show Time
The months following the mentoring scheme seem like a whirlwind roller-coaster of highs and lows, risks and unknowns. I'm not quite sure how I did it, but at the start of the year I ended up doing a 'scratch' performance of my work-in-progress at The Crucible in front of an audience. This led to a whole February of quietness, depression, and loneliness until I eventually met my fantastic producer Joseph Willis in March. Joe helps me to organise my stuff and he chats to people when I can't. He is wonderful and I'm very lucky to have him.
Theatre Deli had us booked in for a performance on World Mental Health Day, 10th October 2018, and offered us rehearsal space for the two weeks prior. My picture was in the programme. My name and the show description I had written were there in an actual theatre programme! Yet whenever I looked at it I felt numb. I was detached and unable to process what I was seeing and experiencing. No sense of pride or excitement, just empty, strange, indifference. It's difficult to describe what I was feeling throughout the whole process but I'm pretty sure I was fuelled purely by adrenaline.
The evening of the show came and I was accepting of it. I was backstage by myself and I could hear crowds of people coming though and taking their seats. I was so nervous but I knew this was an important step; the biggest step I'd taken in years in fact. I had committed to completing something I'd always wanted to do from beginning to end and now the finish line was in sight. I entered the stage and looked at the audience. At that moment I felt so many things but also felt nothing. It's such a difficult experience to describe. I was in a state of concentration, ensuring I remembered all the lines and cues. I tried to stay present and focused to avoid panicking or running away. I felt very mindful at times but being alone on stage also felt like an out-of-body experience – like I was flipping between two states.
It was a vivid experience but definitely also a blur in parts. Like a lucid dream, but one that's difficult to recall. I managed to remember all the cues. The audience were exceptionally giving and laughed along with me – everyone had such a great time together and it was my most memorable World Mental Health Day to date.
Post Show Blues
We had all worked so incredibly hard for months. It had taken almost exactly one year to get from the Third Angel Mentoring Scheme to the show premiere at Theatre Deli. Joe seemed to have not slept in weeks and my audio-visual technician refused to take time off when he was ill during the rehearsals because he was so committed! But now, after all the hustle and bustle, I was alone.
The next few days taught me the importance of maintaining self-care. After talking about the value of it during my show I now had to practice what I'd preached. I realised how vital it was to manage my own mental health regardless of what was going on in my life. It didn't matter that I was talking about it all day during rehearsals and a show; I still had to keep on top of my own mental health. I got a haircut, bought a new outfit, and ate food at nice cafes for a few days. However I hadn't planned anything for my time off and after a couple of days I started to feel very low. Even though I had achieved something I had wanted to for years, I felt the emptiness creep back in.
To me, depression feels like a new encounter every single time. This time, however, I have the awareness that I have been here before. This is not my first rodeo! I have contacts that won't judge me if I need to talk and I'm lucky to have a GP that is very supportive too. I know sometimes it is an endurance test. I absolutely have to commit to riding this episode out the same way I committed to seeing my show through to the end – from start to finish. If you're going through hell – keep going.
Look out for the tour of Jess' show 'Work In Progress' across the UK in 2019.
Keep up with events by following @JessiJayGibson on Twitter or Jessgibsonarts on Facebook.