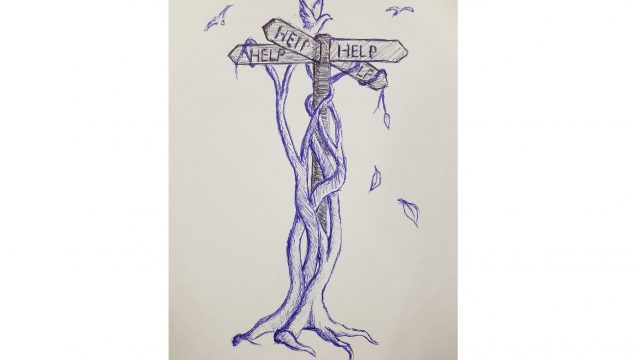 Poem by Craig Hopwood, Art work by David Atkinson: Help
14
Creativity and art connect people.  This beautiful poem by Craig Hopwood was inspired by David Atkinson's drawing shared on Twitter.
The story behind the writing of this poem is beautiful. When David Atkinson was just doing a quick doodle at one of the workshops at Men's Mental Health course run by Connected Worlds (Rotherham Flourish), he didn't imagine it would inspire this powerful poem. The drawing that was shared on Twitter caught the attention of Craig Hopwood and he decided to write a poem about it. Craig's imaginative engagement with this simple yet profound drawing and its plea, is a powerful call for help and also hope.
Although David and Craig have both attended Rotherham Flourish courses at different times, they haven't met in real life. We are glad our courses and digital community hub is a bridge to connect 'worlds', and create solidarity.
Help
In the darkness of despair,
I hear and see the birds in the air!
Flying around to show me the guidance I need,
But is this a battle with which I'll succeed?
My life, like the post, entrapped and entwined,
Overtaken and consumed by life's daily grind!
If only I can break the hold,
Start to live, start being bold!
I listen to the birds, as they sing their song,
Trying to show me the road to travel along!
The Doves remind me of the peace I enjoyed,
Now I spend all my days being annoyed!
With the help from the 'Dove' above,
I'm going to see I still deserve love!
So whilst I'm battling with life, hear my yelp,
I'll fight my demons, I will reach help!