Description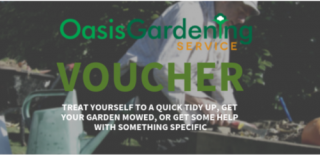 Oasis Gardening vouchers are the ideal gift for a friend or family who has a garden or green space they'd like to spruce up. £34 for two gardeners for one hour. All money made through contract gardening is pumped straight back into Oasis, supporting people living with mental health difficulties and distress through gardening for wellbeing.
Terms and conditions:
*CUSTOMER GARDEN MUST BE IN THE SHEFFIELD AREA *
WORK MUST BE COMPLETED BY DECEMBER 31ST 2019 (CAN DO ANY SEASON).
ALL PROFITS SUPPORT OUR GARDENING FOR WELLBEING PROJECT, AS PART OF MENTAL HEALTH CHARITY SHEFFIELD FLOURISH (REGISTERED AS RECOVERY ENTERPRISES: 1147334)